Best Basketball Hoops For Pools
Best Pool Basketball Hoop Reviews
Have you been searching for the best pool basketball hoop reviews?  
Whether swimming or just hanging out with friends, a pool is an excellent place to gather and cool off in the hot summer heat.
But there's something that can make the pool an even more exciting place and provide hours of fun for people of any age.
That item is a high-quality pool basketball hoop.
Regular basketball hoops are quite nice, however, they are more so meant for a specific type of play.
Pool basketball hoops rest on the edge of an above-ground pool or on the ground atop of an in-ground pool.
Generally, the basket will hang over the lip of the pool so that the ball will go into the water after someone scores.
They are usually designed so that the ball will always bounce back into the pool after a rebound.
This means that nobody has to get out of the pool to retrieve the ball as long as a decent shot is made.
Pool basketball is great fun for everyone and can be played whether you are young and nimble or older and slower.
But there are some things that you should look out for when purchasing a pool basketball hoop, as not all are built the same.
How to find the best pool basketball hoop
One of the most important parts of the pool basketball hoop is the base. You need one that is sturdy and will hold up to plenty of abuse.
Some bases are filled with water, and others are filled with sand. Some even offer the option to fill with the substance of your choice.
You'll want one with a strong design that makes the hoop less likely to tip over, especially in the event that someone tries to dunk the ball.
Make sure that the materials used to make the hoop are high-quality and water-resistant.
There is bound to be plenty of water splashed on it during gameplay, so you don't want something that will rust or fade.
You can also purchase spray that will help to protect the hoop.
The hardware should be solid and held together tightly. Ensure that the nuts and bolts fit correctly and that nothing is loose before you set up your basketball hoop to be played with in the pool.
You don't want to have to search through water to find small pieces that could get caught in the pool's cleaning system.
You'll also want to make sure that you get good basketballs for the hoop. Many pool hoops come with cheap balls that fall apart with minimal use because they are not built for water.
Look for options that have water-resistant balls that are made of good materials.
Note that there are also basketball hoops that can be inflated and float around the pool.
This are a fun way to play a different type of game, but they aren't the ones that we are reviewing.
We will be focusing on basketball hoops that can be set up on the edge of the pool and that have rims and nets that hang over the water.
Finally, try to find a hoop that works best for your pool. If you have a small above-ground pool, you won't need to buy the most expensive hoop on the market.
However, if you have a large pool and are planning on having many big games, then you might consider 2-in-1 hoops that allow for a basket at each end of the court.
Now that you know what to look for in a pool basketball hoop, it's time to determine which is right for you. 
Take a look at the following list of our top 10 recommendations for some fun in the sun:
Top 10 Best Basketball Hoops for Pools
1. Dunnrite Splash and Shoot Swimming Pool Basketball Hoop
The polyethylene design means that this hoop won't suffer from leaks and should last a long time at the side of your pool.
It even comes with an adjustable height telescoping pole so you can set it up for kids, adults, or both.
This is also a great way to try different shooting challenges when you've run out of games.
The aluminum powder coating means this will hold up to even the toughest of weather so that you don't have to bring it inside after every single use.
---
---
2. SKLZ Pro Mini Hoop Poolside System
This is one of the most impressive poolside hoops on the market, and it looks like the real deal!
The portable base means it is easy to put wherever you need it, and the telescoping height feature allows to you choose any level of difficulty.
The backboard has cool graphics and looks like something you'd see on a real basketball court, meaning that fans will love the aesthetic.
It is made of strong polycarbonate and can hold up to plenty of action.
Whether you are taking shots from the far end of the pool or driving in for a powerful dunk, this hoop should remain standing for a long time.
The steel rim is water-resistant and has a real nice feel to it.
The rustproofing doesn't end there, as the entire product will withstand any weather that comes its way.
Another nice feature of this hoop is that it can be used indoors in addition to be a great pool hoop.
With the ability to play at 3.5 feet all the way up to 7 feet, there is pretty much nothing this wonderful hoop can't do!
We highly recommend this for those who want a long-lasting hoop that provides an excellent level of play.
---
---
3. SwimWays Poolside Basketball Hoop
This hoop comes with a very big backboard and a built-in rest for the basketball to be placed in when play is over.
This will prevent it from rolling around the pool area and becoming a hazard.
It is a durable poolside hoop with a sturdy rim and a long net that makes for cool-looking shots.
One of the best parts about it is that it is super easy to assemble and doesn't require any outside tools or parts.
You pretty much just set it up and its ready to go in minutes. The same can be said for disassembly and storage.
For being such a small hoop, the base is incredibly sturdy and should hold up to any game you throw its way.
It has a modern look, but it is geared more towards a younger crowd, so keep that in mind if you are considering it.
Despite the design, it is built to last a long time and won't be damaged by inclement weather, although it should be brought inside in areas that have long winters.
The one downside is that this doesn't have an adjustable height feature, but it is still overall a very nice hoop.
---
---
4. Dunnrite PoolSport Swimming Pool Basketball Hoop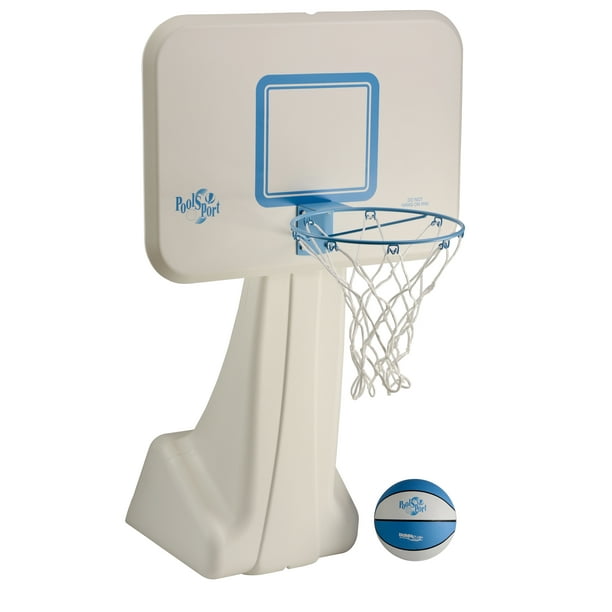 This is a simple but elegant hoop that sits right on the edge of the pool and provides plenty of stability.
T
he 31 x 22-inch backboard is made with polyurethane and the 14-inch rim is coated in vinyl, so the materials are high-quality and will last a long time.
They also offer nice action when shooting the ball, and you'll get a nice springy rebound and satisfying swish noise.
This is a solid, one-piece design that sits nicely on any edge of the pool and can be moved easily.
It is also quite simple to assemble so you don't have to worry about having too many tools lying around or dealing with moving parts.
There are graphics on the backboard that provide you options for different shots, meaning that this can be used for the aspiring ballplayer who wants to get better, even in the pool!
Much of the hoop is made with plastic, but it is high-quality and will withstand poor weather conditions and the general wear-and-tear.
Unfortunately, there is no adjustable height feature, but it comes at a satisfactory height that can be played by all ages. If you want a basic hoop that looks nice and just gets the job done, this is a wonderful option.
---
---
5. Dunnrite PoolSport 2 in 1 Swimming Pool Basketball Hoop and Volleyball Combo Set
Dunnrite is a popular name in the world of pool hoops, and this one provides an extra punch!
Not only can it be used to play basketball, but the base can be converted into a volleyball net for all your sporting needs!
The volleyball portion is great, but let's focus on the basketball hoop.
It comes with a nice, solid base that will hold up to 115 pounds of water, and the vinyl coating and steel rims will protect it from nasty weather.
At 36 inches above ground, the rim is a great height for any player and will teach you to shoot excellently from the pool.
It isn't adjustable, but it will still provide hours of fun. Because the backboard is so strong and sturdy, you can take shots from virtually anywhere without rattling it or causing it to collapse.
It provides plenty of width for the errant shots and looks nice sitting up against any pool as it is a simple white and blue.
It isn't overly flashy so it should match any home. Thanks to the additional volleyball feature, this 2-in-one net is an excellent option for any family swimming pool or entertainer.
---
---
6. Swimline Cool Jam Pro Poolside Basketball Super-Wide
Swimline makes a lot of high-quality pool products, and this basketball hoop is one of them.
With a super wide backboard, you aren't likely to have to get out of the pool unless you miss your shot by a mile!
The base is designed to keep the weight away from the pool so that it doesn't fall on a player in the event that something does happen.
The net is nice and long to ensure that each made shot gets back into the pool in a hurry so that you can keep playing your game.
The design is simple but a little blocky, however not so much that it should deter you from considering this hoop.
It is pretty easy to assemble and seems to be built to last, so it can be an excellent purchase for someone who wants something nice to add to their pool.
It has a high-quality build and can be used to the fullest of your ability, meaning that even competitive players will be able to take shots and drive to the net without worrying about topping the entire package over.
---
---
7. Poolmaster Pro Rebounder Poolside Basketball Game
This bright blue backboard might draw the attention of others, and there's a good reason for it!
It is a solidly built product that has a unique look and will stand up to even the roughest play. With a 34-inch width and 25-inch height, you have plenty of space off which to rebound.
The net is forgiving but will be sure to send the ball straight back into the pool if anyone makes a shot.
One interesting feature is that the rim is made with PVC instead of steel, which means it will be less likely to rust, but doesn't have as sturdy of a feel.
This shouldn't be a problem for the casual gamer, however.
This hoop comes with an inflatable ball that is ready to go once you pump it up.
The base can hold plenty of water and should give enough weight to keep it from falling over. The polyethylene netting should hold up to the weather, as should the rest of the product.
This is definitely a nice, compact hoop for anyone who wants something easy to set up and that will provide hours of fun.
Despite its smaller profile, it is a strong and steady hoop that hangs in with the rest of them as far as playability is concerned.
---
---
8. SwimWays 2 in 1 Game
This is another in the line of combination basketball and volleyball nets, and it is an excellent one that will keep you entertained for years.
This comes with two basketballs and a volleyball, so you're ready to go the minute you get this set up.
The 24-inch basketball net is plenty large enough for both children and adults, and it is solid and ready to set up in minutes.
The material is strong and will hold up to weather and shouldn't fall into the pool even with a solid dunk.
This is a basic looking basketball hoop, but it will get the job done for anybody who wants something simple.
It is not height-adjustable so keep that in mind if that is something that you are looking for.
Despite the basic features of this, the 2 in one combo and sturdiness should be enough to make this a worthwhile purchase.
It is compatible with pretty much any pool and it is easy to set up and to put away, which is a big advantage for many people.
---
---
9. PoolMaster 72794 Pro Rebounder Adjustable Poolside Basketball Game
This is a sleek but powerful hoop that is sure to provide hours of entertainment at any pool party!
The modern look will go with any décor and the sturdy base will make sure that guests are safe and that the game will go on.
The pole on this can be adjusted so you can set up a game for children, adults, or both! It is made out of PVC but is coated so that it won't rust if it is left out in the rain.
This feature is important for many people who don't want to be lugging the basket back and forth every time they want to play poolside basketball.
The backboard is 34 inches wide which means that there is plenty of room for missed shots without having to get out of the pool to chase down the ball.
The hoop is also PVC and the net is coated with vinyl. At 14 inches, it is an adequate size for those who want to play pool basketball.
It should be noted that the ball is not the best one, however the rim is wide enough to accommodate other balls that you could buy separate from the net.
There are many pool basketballs available for a reasonable price, so you should be able to enjoy this hoop for a longtime if you get a good one.
---
---
10. Lifetime 1301 Poolside Basketball System
Lifetime is known for their dry-land sporting goods as well as their pool goods, and this basketball hoop is one that lives up to the hype.
It almost looks like a professional hoop, but just a bit smaller. The cool design goes well with any pool and will be pleasing to anybody that sees it.
It has a nice polyethylene backboard that provides plenty of spring and is wide enough to catch even the most errant shots.
The response from the backboard feels like one of Lifetime's land hoops, so this is an excellent product for those who play street ball on a regular basis.
The nice blue rim is 18 inches in diameter, making this one of the larger rims that will accommodate a lot of sizes of basketballs.
Unfortunately, this net doesn't come with a ball so you will have to secure your own.
It is also a little bit of a hassle to assemble, but once you get it up you will have a wonderful hoop that should last for quite some time.
It is solid, attractive, and sturdy so you can play ball for hours on end and not worry about wearing it out.
If you are a serious basketball player who wants to bring your A-game to the pool, this may just be the hoop for you.
---
---
Bonus Recommendation
11. PoolMaster Splashback Poolside Basketball Game
This is a non-adjustable basketball hoop, but don't let that deter you.
It is a solidly built backboard that takes up minimal space and is made with high-quality materials.
The polyform base can be filled with sand or water – whatever works better for you.
The net is made of polyethylene and the hoop is constructed with PVC, so this won't break down under the elements.
The net hangs nicely over the water so that you get a nice return after you make a shot.
With a backboard that is 34 inches wide, you won't need to chase down many balls unless you are really missing the mark.
Unfortunately, there is no height adjustment on this, but it is a satisfactory height for any type of pool basketball player and will stand up to some pretty rough play for the older kids.
Overall, this is a simple but effective hoop that makes a great addition to any pool.
---
---
Conclusion
A pool doesn't only have to be for relaxing, and a poolside basketball hoop shows just why this is the case.
These products can provide hours and years of fun for the entire family. You don't have to be a varsity star to make shots on these hoops.
They are easy to learn and can be used for competitive play or simply for a leisurely game of Horse.
Poolside basketball hoops also provide a good workout that won't put strain on your joints and muscle.
For those with physical limitations, pool basketball is a wonderful game that provides exercise and mobility advantages.
These hoops are also an excellent option for entertainment during the summer months.
Friends and family alike will be sure to benefit from the fun that comes with a well-built basketball hoop sitting on the edge of your pool.
If you choose one of the above hoops for your pool, you are sure to have a summer filled with fun and enjoyment and laughter.